PRODUCT IMAGE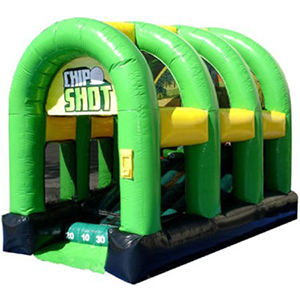 PRODUCT DESCRIPTION
The Chip Shot unit is enclosed on three sides by inflatable walls, with a full-length net across the tee area for added safety. A player chips the ball toward the back of the unit, and the player's score is determined in increments of 10, 20 and 30 by on of the five rings the golf ball falls into. A return tube speeds the golf ball back to a player at the tee area, which keeps the game and the players moving.
PRODUCT DIMENSIONS
Width: 13'
Weight: 266 lbs.
RENTAL PRICES
Birthday / Residential Rates
Corporate / Non-Residential
up to 4 hours
$225 + GST
up to 4 hours
$275 + GST
up to 7 hours
$275 + GST
up to 7 hours
$325 +GST
Details
Prices are excluding GST.
Prices include Delivery, Set-Up and Take Down within the City of Calgary limits. Mileage rates apply on all other rentals ($2.75/km from our office to your location only charged on the way there.)
All Non-Grass Outdoor or Indoor Set-Ups where we are unable to spike down to grass require Sandbags for anchoring purposes, charges apply ($50/unit, larger inflatables are often more than 1 unit.)
Full payment is due upon delivery. Visa, MasterCard, Amex, Cheque or Cash. A 25% Deposit is required to secure bookings and is fully refundable, if cancellation is made 14 calendar days prior to the event. For rentals of $1000 or more, a 50% deposit is required and is refundable if cancellation is made 45 calendar days prior to the event. All deposits are refundable in the event of inclement weather in which Astro Jump is unable to set up.
Scheduled delivery hours are from 9am-9pm (or 30min before sunset on outdoor rentals). Additional charges apply for deliveries outside of these hours.
An optional Damage Waiver of 12%  will be added to each rental. The Damage Waiver covers any damage that occurs during normal use of the equipment (does not include damage due to  negligence, flagrant misuse or not adhering to the rules of use.) The Damage Waiver ensures that our clients will not incur any expenses after the duration of the rental.
Request For Chip Shot Golf